Interested in joining a triathlon or running club in your area? Check out some of our club partners below! 
Triathlon and running clubs are a great way to get involved in your local community and train alongside like-minded athletes. Clubs offer you the opportunity to learn from other athletes, make new friends, and participate in group workouts.
Alpha Win offers special perks to members of our club partners. Those perks include but are not limited to:
20% off all Alpha Win events
Special triathlon club racking locations
Designated club portable toilet
Priority bib assignment
Don't see your club listed? We would love for your club to get involved! 
Reach out to us at info@alpha.win to learn how your club can get involved at our events.
Capital District Triathlon Club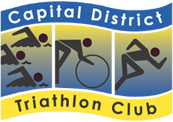 Organized in 1993, the Capital District Triathlon Club (CDTC) membership comprises approximately 200 men and women from the New York State Capital District region, as well as members from Columbia & Saratoga Counties, Southern Vermont and Western Massachusetts. The CDTC, now heading into its 18th season, is one of the largest multisport clubs in the Northeast. Follow them on Facebook here!
Saratoga Triathlon Club
Established in May of 2007, the Saratoga Triathlon Club has grown rapidly. We are multi-sport athletes who reside in the greater Saratoga Springs area of upstate NY. With experience ranging from Ironman finishers to "newbies", our membership includes all levels of experience. We are here to have fun through the camaraderie of fellow triathletes, get in shape, train hard and grow the sport. Follow them on Facebook here!
TriLatino Triathlon Club
Founded in 2009, TriLatino Triathlon Club, Inc. operates with the mission of: Increasing the participation of Latinos in triathlon and endurance sports, promoting healthy lifestyles and uplifting our communities. Follow them on Facebook here and Instagram here! 
LA Tri Club
For athletes in Los Angeles and across the globe, LA Tri Club provides a network of information, support services, training & racing activities, friendship & fun for all ages and abilities. Follow them on Facebook here and Instagram here!
Newport Coast Triathlon Team
The Newport Coast Triathlon Team (NCTT) is among the longest running and most decorated triathlon teams of its size on the West Coast.   We welcome athletes of all abilities and demographics – men and women, young and old, dedicated and weekend warrior. Follow them on Instagram here!
San Francisco Triathlon Club
The San Francisco Triathlon Club is a not-for-profit charitable organization and a multisport club. Our goal is to provide a safe, healthy, fun, and positive environment for all of our members. Check them out on Instagram here!
Brooklyn Triathlon Club
BTC's mission is to foster the sport of triathlon in Brooklyn and the greater New York area by providing opportunities to learn and participate in the sport and by promoting healthy and sustainable living that can be realized through involvement in the sport and through training. You can check them out on Facebook here and Instagram here!